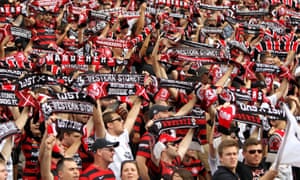 Pic: Ashley Feder/Getty/Guardian Australia
Australians are among the world's most dedicated sports fans. So, when it was
announced
before the season opener at the home ground of the Western Sydney Wanderers game on October 10, that aspects of support generated by one of the nation's more passionate fan bases was to be curtailed, it left many scratching their heads.
When those supporters, the so-called Red and Black Bloc (RBB) of the Western Sydney Wanderers, A League Premiers in 2013, conducted their usual march through the streets of the outer-Sydney city of Parramatta, they were, as promised, accompanied by a considerable police presence.
As is predictable, much of the media jumped on the story before the march, relishing the adversarial angle and upping the potential for violence.
A lesser number reported the fact that, when the RBB did march in support of their club,
nothing actually happened
.
Police may say that's because they were there. But, whether that's so or not, it seems that their presence was
not welcomed
by many prior to the fans' march, nor was it appreciated after it.
You would think football (soccer) in Australia had returned to the bad old days. Ethnic clashes have been known to spill out onto the terraces and even onto the field in previous times here.
There was also the matter of the tragic, fatal shooting of Curtis Cheng, a police staff member in Parramatta, outside the police station, by a young Muslim teenager just before the season opener.
Parramatta, it must be said, is an area heavily populated by Muslim Australians. Many RBB supporters are Muslims.
With the RBB about to take to the streets, you can't blame the police for being jittery.
As we noted on this site before, violent boofheads and bigoted idiots will always gravitate to football as an easy battle ground. But, that doesn't mean everyone supports that. Nor does it mean should fear cultivate it.
In fact, in the vast majority of cases, very few real fans have any time for violence or bigotry. Thousands of football games happen around the world every year without starting a war or without generating any violence at all.
As the late, great Uruguayan writer (and football tragic) Eduardo Galeano wrote, "in most cases violence does not originate in soccer, any more than tears flow from a handkerchief."
But, by weighting the attention towards the perpetrators and away from the majority of peaceful football supporters, the opportunity for really using the power of football is lost. Football, less a lightening rod for violence can be the light of peace and understanding, in the Parramatta community as elsewhere.
Football can be a strategic option for peace and should be utilised to bring people together. Divisions are easy to make when you wear different colours to someone else. But friends are easy to make when you love the same game. It just depends on the where the emphasis is placed.